Make an Enquiry Here
Check Mortgage Rates Here
Shared Ownership Calculator 
During the Credit Crunch it was nearly impossible to get a mortgage if you had ever been bankrupt but luckily times have changed and there are now lenders out there that will consider someone who has been bankrupt. It is unlikely that you will find a lender on the high street though even if you know your credit report rating has got better. You will need to seek an adverse creditor, you can do this by seeking a specialist broker as they can best judge what to apply for considering your circumstances.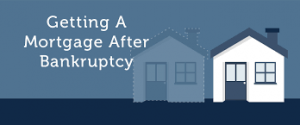 After Bankruptcy to get a Mortgage you will need a large deposit for example:
If you are able to offer a 50% deposit you can get an immediate loan once you are discharged from bankruptcy.
2 to 3 years after your Bankruptcy you will need a deposit of around 30%.
3 to 6 years after you will need a 25% deposit.
Once 6 years has passed you can apply with as little as 5%.
You can get a mortgage with a Bankruptcy on your record and you might even wonder if having a IVA instead of a Bankruptcy would make getting a mortgage easier in the future but this is not the case – with an IVA it will be at least 6 years before you can get a similar deal to if you had gone Bankrupt instead.
Make an Enquiry Here